Why choose the Keskeny Printhouse for manufacturing corrugated fiberboard packaging and boxes?
we're cost-efficient and fast if manufacturing small-medium manufacturing volume
we work with the most modern machines and apply different procedures during production (such as cutting out, window patching, window laminating)
our designer team is ready for to your service! Bring us (or send us) the product for packaging and our designer colleagues will prepare the perfect packaging for you if such a case should occur, we are sending you a sample of the designed packaging. Thus you can check if the product meets your demands.
our printhouse is famous for its printing quality. You can count on us if you need this excellent quality! It is also our strength that we can make corrugated fiberboard packaging unique with different surface treatment procedures.
For what product packaging do we recommend corrugated fiberboard boxes and displays?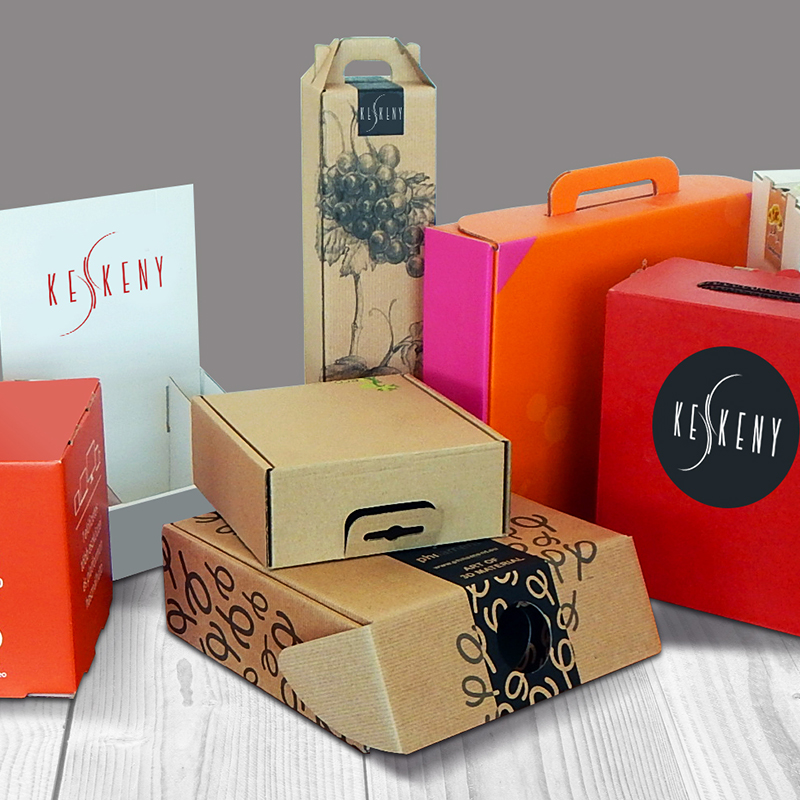 The corrugated fiberboard box can also be used as a collective box, dispenser box, for packaging of food, manufactured goods, games, board games, shoes, in addition, it is the perfect solution for bag in boxes, beverage and wine boxes and tabletop displays.
We offer following services regarding design and production of corrugated fiberboard boxes.
Professional consultancy
We can assist you via phone or email in case an offer request, but you can also request a personal consultation. In that regard we ask our clients to bring their product they would like to package. Jointly we assess the needs in terms of what factors re important when packaging products (sturdiness, elegant box, etc.). Next, we show our clients packaging shapes, materials, surface treatment procedures, and we provide them with the ideal packaging solution with demands and opportunities in mind.
Construction design
Our designers will prepare the plan of the box with CAD, as soon as we have discussed the possibilities with our clients. This scale drawing will be proper for designing the graphics of the box.
Sample box drafting
Based on the designed drawing our designer colleagues cut out a sample with the help of the plotter, and send it to you on demand, so that our clients can check whether the size and material of the box meet the demands for the product.
Complete manufacturing
In case of order we undertake the complete manufacturing in-house. Depending on the construction of the box we print the liners with professional printing units, those sheets that we will mount (glue) onto the frame of the corrugated fiberboard. We applied different surface treatment procedures during printing (such as hybrid UV drip off varnish, cold foil, etc.). The Bobst Foliostar 165 MATIC laminating machine is operational in our printhouse since the first quarter
2017 and fulfills even the highest demands. The mounting capacity of the Keskeny Printhouse peaks at 100 000 sheets per day with the modern machines, and we're able to mount together closed and open waves, gray boards or two cardboard.
After mounting we cut out a box shape of the mounted sheets with the help of Bobst die-cutting machines. The boxes are prepared collapsible or assembled depending on the construction.
What base materials do we use in the manufacturing process?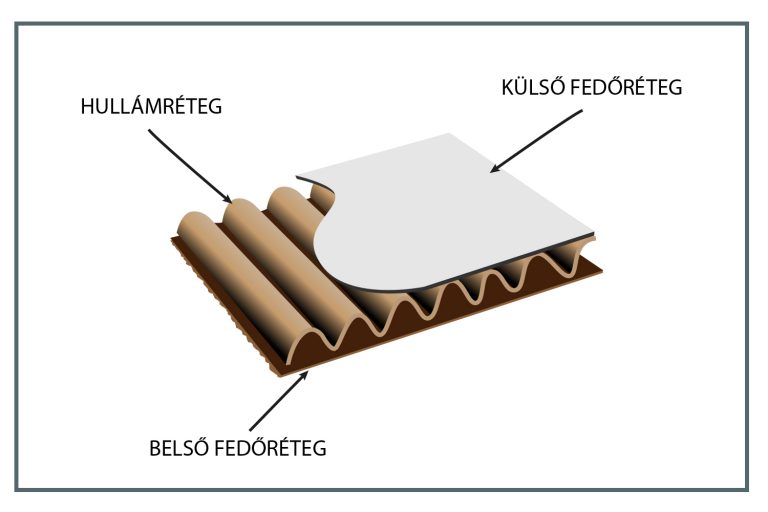 We use open or closed corrugated sheets, binding plates, but we can also mount two cardboards together. We may employ very thin coating materials (starting at 150 grams) as top layers. In our work, we use the highest quality among the GD liners, the servi liner of 180 and 210 grams – and in the manufacture of very demanding products, even higher quality liners could be used. For special requests, we also guarantee the use of other base materials.
Think about what packaging you need and what factors are important to choose your ideal packaging. For further information or question, please contact us at the following contact details.
Request an offer and more details:
Bernadett Ribai
Tel: +36 1 401 4076
Email: packaging@keskeny.hu